illustrated by Michael Dooling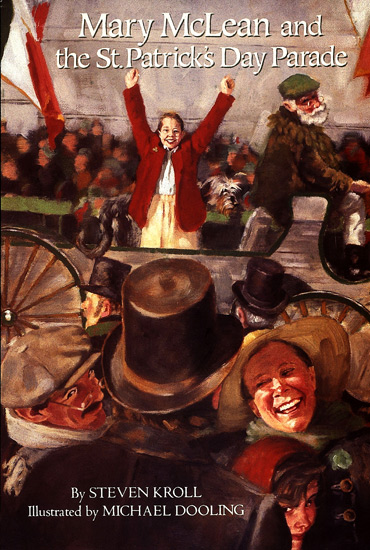 Scholastic
Ages 6-9, Paperback, $4.99
ISBN-10: 0-590-43702-8
An Irish immigrant girl in New York City in 1850 wants nothing more than to ride in the St. Patrick's Day parade. Possibly with the help of a mischievous leprechaun, she gets her wish.
"The well-paced and satisfying story focuses on Mary McLean, a girl of nine or so, who dreams of riding in New York City's St. Patrick's Day parade. . . Young readers and listeners will admire Mary's vision and determination and will find, as a bonus, that they have been pleasantly introduced to an important era in our history." School Library Journal
American Bookseller Pick of the List
Scholastic asked me to write a story about St. Patrick's Day. I combined my interests in history, immigration, and New York City to create this tale. It represented the first of the several books I have now written on these subjects.