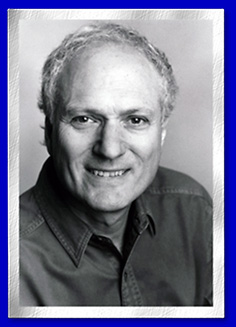 Photo by Harry Heleotis
I grew up in New York City, on the Upper West Side of Manhattan. The apartment building I lived in was on the corner of West End Avenue and 73rd Street, one block from the Hudson River.
My father was a diamond merchant. He traveled to Amsterdam, Holland, and Antwerp, Belgium, buying what he called "stones" and selling them in New York. I loved going to his office on Fifth Avenue and watching him weigh the glittering diamonds on a tiny brass jeweler's scale. I also loved the parties my older sister threw in our apartment, which inevitably disturbed the neighbors.
My parents were very stylish. My father had a mustache and wore suits with a vest and a watch chain. My mother wore fashionable dresses and big hats. She was a great storyteller, which is probably where my love of telling stories began.
But I also had my Upper West Side neighborhood, a wonderful ethnic stew of Jewish, Latino, Chinese, and Viennese. Wandering those streets, experiencing the restaurants and the pastry shops, the delicatessens and the movie theater, the corner drug store and the corner book shop, I began to recognize a wider world, a world outside my own that would make me want to tell stories, travel, and be a writer.
Many of my books have come out of that neighborhood. The kids in my building all played downstairs together, under the watchful eye of Gordon, the doorman. The sharing we did can be found in THE BIGGEST PUMPKIN EVER and its sequels, the bullying, followed by sharing, in JUNGLE BULLIES. The spark for my two novels of Italian immigrants in 1890's New York, SWEET AMERICA and WHEN I DREAM OF HEAVEN, came from hours listening to our night watchman, Tony, tell stories in the lobby after my Saturday night dates.
And there was Riverside Park, just a block away, where I played stickball near the railroad yards and cowboys and Indians on the green lawns, and where I watched an endless parade of dogs that morphed into an endless parade of dog stories, from IS MILTON MISSING?, my very first book, to A TALE OF TWO DOGS and POOCH ON THE LOOSE, my ode to New York at Christmastime. I may be one of the few authors to have written so many books about dogs without ever having owned one.
Visiting schools, as I often do, I am always being asked where ideas come from while at the same time, kids are always saying they have nothing to write about. Ideas, of course, come from everywhere, but the answer to both questions is frequently: your neighborhood. Look around your neighborhood. Story ideas are lurking.
When I was growing up, there was no emphasis on writing at school. No one ever told me I could write a story. I thought writers were either gods or dead. It wasn't until I was thirteen that I took a walk along Central Park West after a rain, noticed how the streetlamps made the wet streets shimmer as if they were made of glass, and ran home to write my first story, "The World is Made of Glass." It was only after that that I realized I wanted to be a writer.
I had gone to Hunter College Elementary School and was then at McBurney. From there I went to Harvard, graduating with a degree in American History and Literature. I had decided to become an editor instead of a writer, improving other people's books instead of writing my own. And I kept at it for six-and-a-half years, working first at a wonderful, old, London publishing house called Chatto and Windus and then at Holt, Rinehart and Winston in New York. While in London, I was also an editor of a literary magazine called Transatlantic Review and a book reviewer for several other magazines.
But finally, I had to get out of publishing and write. I moved to Maine and struggled, writing now for both children and adults. Four years later, back in New York, I met a children's book editor named Margery Cuyler, who was the first to publish me and is still publishing me so many years later. I've now written 95 books for children, everything from picture books to American history to novels for young adults. I speak at schools and conferences all over the world. I'm married to the journalist, Kathleen Beckett, and we live both in New York City and an old carriage house in Bucks County, Pennsylvania. When I'm not writing or traveling, I play a lot of tennis and walk around looking at everything.